So, I know I probably spend waaaaaay too much time online, but when I come across such great things like what I have listed below, I feel like I can justify it, especially when I share it with all of you. That makes it like service, right? ;)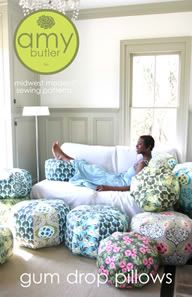 I've had this pattern from
Amy Butler
in my stash for awhile, and I'm itching to get started on it. I think these pillows are full of whimsy and fun, and could really liven up a space. You can buy the pattern
HERE
.
I'm loving these elephant pincushions from
Heather Bailey
. I have a slight obsession with pincushions, and I think I might have to make a few of these, too. You can find the pattern
HERE
.
HERE
. You should also check out their whole blog
HERE
, and their shop
HERE
. Their shop is full of really, really lovely things. They're based in Canada, and for right now, only ship within Canada...except they mention that if you live outside of Canada and really truly can't live without something you see in their shop, contact them, and they'll figure out shipping.
HERE
. Though, you have to be somewhat familiar with crochet, as it's not a step-by-step pattern.
HERE
. You can also feel good about your purchase because she donates 10% of all proceeds to
LDS Humanitarian Services
.
HERE
.
HERE
.
Chadwicks
. They have a killer clearance section, though their normal prices are usually pretty fair, too. I bought one of my all-time favorite, I'll-cry-when-it-wears-out skirts on clearance from their website a couple of years ago. You should check them out. You can find the shirt
HERE
.
Well, that's all for this week. I'll have more favorites next Friday, and the Friday after that, and the Friday after that...
If you have any favorites, do share!!