Whew, what a day!! James is out of town (hopefully I'll have some good news to share about that soon), and two of my little
Hatchlings
are battling stomach flu. Ugh. Stomach bugs are so hard on little ones, and there's not much you can do about it. So, I've been doing load after load of laundry, and consoling and cuddling the day away (that part I don't mind so much :) ). Anyways, I'll keep it short in my stolen moment of blogging.
I mentioned in a post a few weeks ago that I love Louisa May Alcott's
Little Women
series. And since I have three boys, I feel like I can really relate to the second book in the series:
Little Men
. It talks all about Jo and her husband and the boarding school that they start for boys. I like many things in the book, but one part in particular details how Jo recognizes the need that little boys have for collecting treasures. This
tendency
, if left unchecked, can get totally out of control (don't I know it!!). So, Jo gets a big chest of drawers, and each boy is given a drawer for his very own. A place to deposit anything he deems worthy. The only two rules are that you can't fill it with anything that can escape (live bugs, frogs, snakes, etc.) and you only get one drawer, so you have to pick and choose what will fit.
Brilliant. Simply brilliant. I am totally adopting this idea. My boys (and girl for that matter) would love to have a space all to themselves that they could fill with whatever they want. I love it because it satisfies their need to collect things, and it satisfies my need for an orderly, attractive home. Which brings me to this picture: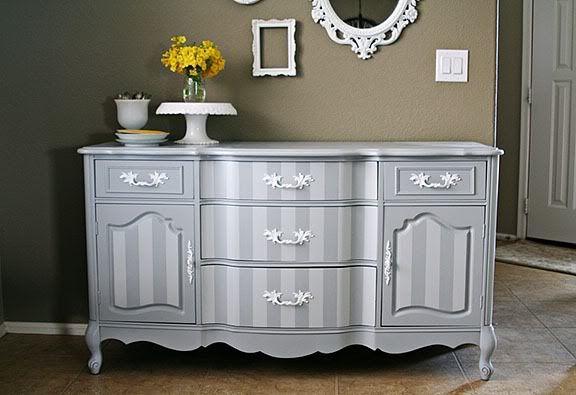 (Image via A Life of Blue)


I am really loving this painted sideboard. Something like this would be a perfect host for little boy and girl treasures, and I love that it's beautiful and funky and you could put it anywhere in your home. I'm totally doing this. People sell old furniture like this all the time at garage sales, for
cheap
. Usually because the finish is ruined, but that makes it a perfect candidate for painting. And the stripes? LOVE. It works because the color difference is subtle. Fun, but elegant. The process of refinishing this sideboard was blogged
HERE
.
As always, Happy Friday, and weekend!