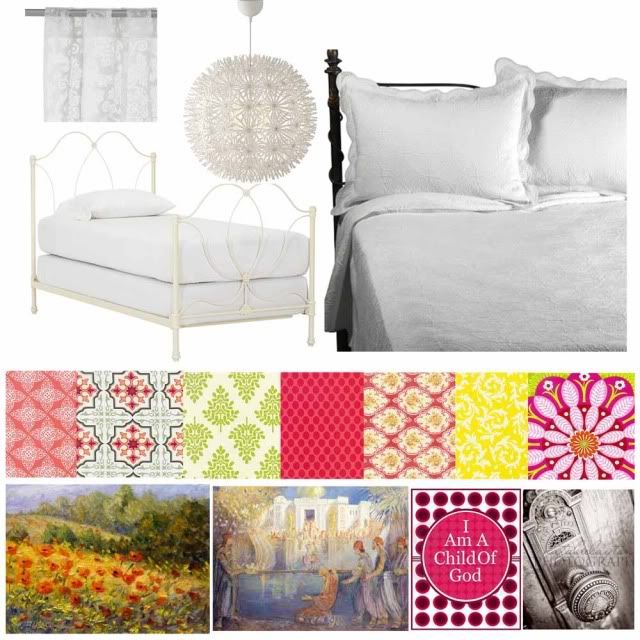 Picking out pretty things to create a room is really, really fun. And someday, maybe Natalie's room will look a little something like her inspiration board :)
For girls, I love white rooms with white beds, bedding, and window treatments. I think it looks, airy, crisp, and fresh. With a blank canvas, it's fun and easy to add vibrant pops of color with accessories and decorations.
I love the bright, cheerful fabric. I would use it to make colorful throw pillows, and a patchwork quilt - it would look great folded and place over the coverlet at the foot of the bed.
To keep the room from looking too grown up, Natalie has a collection of stuffed animals and dolls, and I plan on turning her apple green crib into a funky reading bench.
It's a room that I think can work for a little girl, but grow with her as well.
Shopping info starting with top left:
Curtains: alvine rund - ikea
Pendant Lamp: maskros - ikea
Quilted White Coverlet and Shams: matelasse coventry - Bed, Bath, and Beyond
White Iron Bed: allie iron bed - pottery barn kids
Fabric swatches (all can be found at
Quilt Home
- my favorite online fabric store):
persimmon - ty pennington impressions
sanctuary - patty young
trees - marshmallow pistachio - momo
egg dots - raspberry - momo
coral rose - fig tree quilts
bijoux - heather bailey
gypsy bandana - pillow and maxfield
"Monet's Poppy Field" - Jan Blencowe
"Lehi's Dream-House of the World" - Minerva Teichert
I Am a Child of God Print - Lemon Dropp
Salt Lake Temple Back Door - nlaytonphotography (etsy)