Oh, my poor neglected blog. I think I may have (read: totally and completely without a doubt) bitten off more than I could handle in the way of handmade projects for Christmas...hence the poor neglected blog :)
But, ignoring the blog was not in vain. I actually got my projects done on time, and I'm rather proud of how they all turned out (if I do say so myself).
Felt food: I have a new obsession. Felt food is awesome! I love everything about it: felt is cheap, felt is easy to work with, and it satisfies a lot of my creative needs. I love how easy it is to make (though can be time consuming). I love all the little details and the embroidery. I love how I can pick it up and put it down easily every night and work on it while James and I work our way through
Monk
on Netflix. Behold Natalie's basket of food: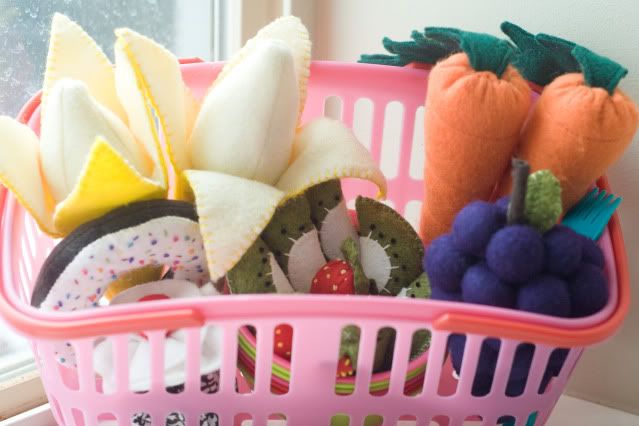 I found the grocery basket and the forks, spoons, and plastic bowls in the dollar section of Target. Can you believe that I have never perused that section until a couple of months ago? There's actually a lot of good stuff to be found in there :)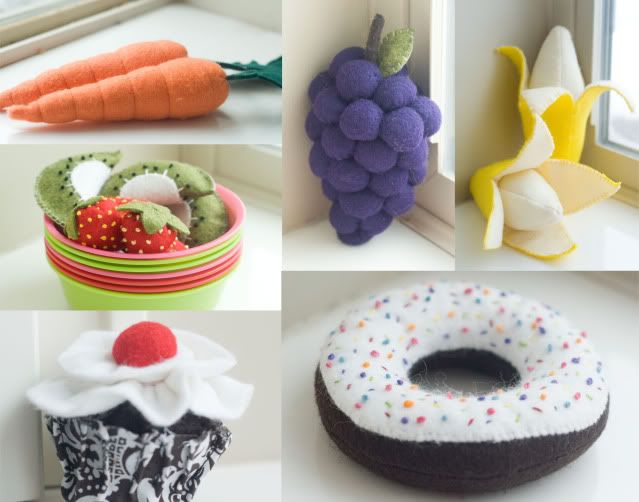 I used tutorials for some of the foods (google "felt food tutorials"), I worked off of pictures I found for others, and then for the grapes, I just did my own thing. I have tons of felt leftover, so I predict the collection will grow in the coming months :)
This is the
doll
that I made for Natalie. I love how she turned out, and I love how Natalie likes to hug her really, really tight :)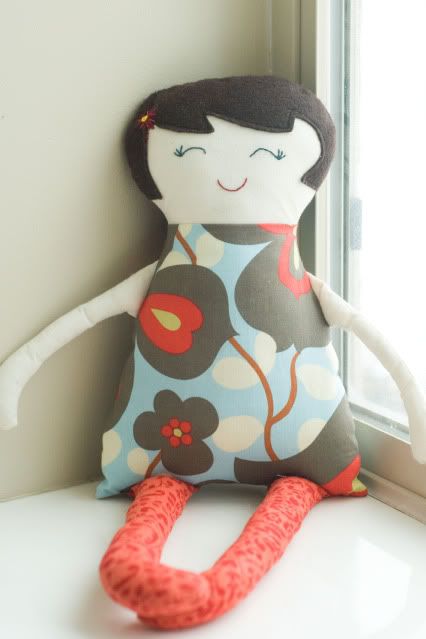 I wanted to make something for my boys, too, but I was kind of drawing a blank. Then I remembered how much they love stuffed toys...and monsters. So, these silly little guys were born. My boys like to be tucked in with them, which makes my little heart proud :)
And last, but not least, I finished up the five baby quilts for
Lua Nova
. The quilts are what took up most of my holiday creating time, but it was well worth it. I wanted to get pictures of all the finished quilts, but my camera battery was dying, and I had to pack them up and send them off right then...so...these are the only two shots I got. I machine quilted all of the quilts, and they each have a thin cotton batting in the middle. Two are made of all cotton fabrics, top and bottom. Two of them have a quilted cotton top and a minky bottom (JoAnn's had their minky on sale for 50% off!!...and I used the leftovers on the little plush monsters). The last one is made of all cotton flannel, top and bottom. This is one of the all cotton quilts: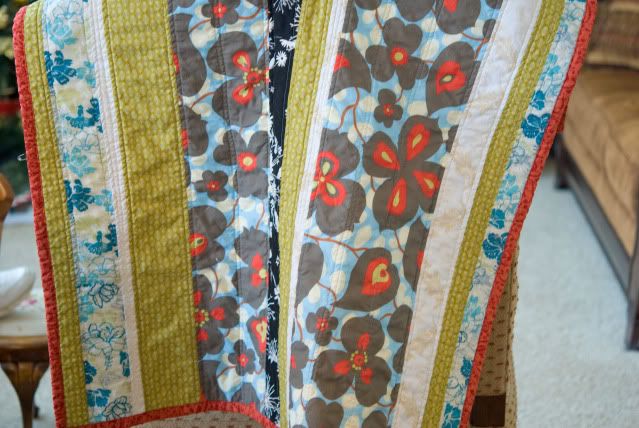 And here they are all ready to ship, along with the burp cloths and crocheted baby shoes that
Candida
made.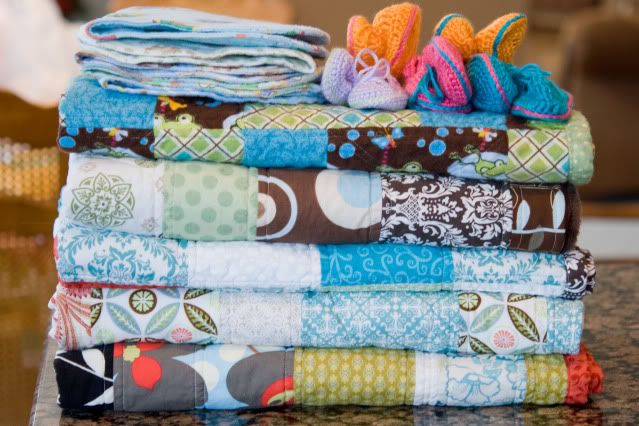 Whew! You're amazing if you stuck with it to the end of this post :) I'm excited to get going on this blog again. I've missed posting on it.
Hope you all had a wonderful Christmas, and here's to the best year ever!