One of my all-time favorite things is a good deal. And, Hancock Fabrics had this really great sale on Monday where all of their Butterick, McCall's, and Simplicity patterns were on sale for $1 each. Sweet!! I don't normally buy patterns because they are so, so expensive, but it was too good of a deal...I bought three:
This apron pattern was too cute to pass up. I love the one on the left. I told James I want to be one of those housewives that wears an apron all day. It just seems so handy and would protect my clothes. His concern is that I would look frumpy all day. Valid, but not with a cute apron like this, right? It's McCall's pattern M5997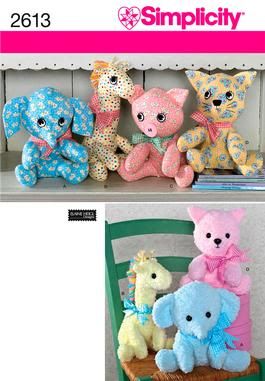 And, how cute are these vintage softies?! I can picture a whole shelf or windowsill of them in Natalie's room. And, they would make great gifts/humanitarian projects as well.
I also bought one more pattern, but I couldn't save the picture. It's a pattern for reusable grocery bags. It's Simplicity pattern 2806. You can see it
HERE
.
Another one of my favorite things is working on projects, which is why I've been MIA on this blog lately. I'll have to figure out how to make enough time for working on projects AND blogging about it. Wish me luck :)
This pretty little needle book is one thing I've made. Cross your fingers that I get the how-to up next week :)
And, I've been working like crazy on baby quilts to donate to
Lua Nova
. All I have left to do on this one is to trim it up and sew on the binding. Then I'll wash and dry it into crinkly goodness.
And this is another quilt top for a strip quilt. I used fabric from my stash for this one. It's bold and a little funky, but I like it...I just hope the girls at Lua Nova do too :) Sometimes "funky" crosses over into "hideous". Hopefully that's not what happened here. hehe.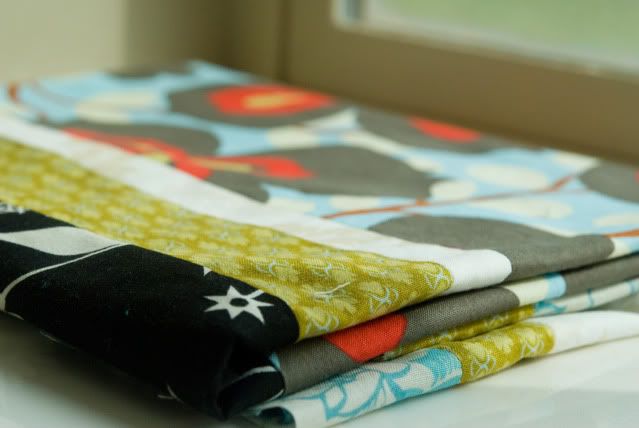 I also have another quilt in the works. I have all the pieces cut out, but I still need to piece, quilt and bind it.
Happy Friday!!