The businesses in the town that we're living in right now host trick-or-treating the afternoon before Halloween every year. Practically the whole town comes out for it, and the businesses are really generous. The kids love it because they run into their costumed friends from school and church, and I love it because afternoon light is sweet for taking pictures :)
My little rugrats all dressed up: Three sheriffs, and one pretty little peacock.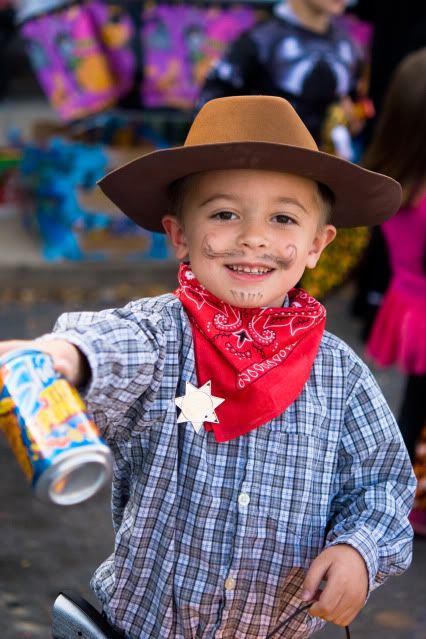 One of the businesses handed out cans of soda and hot dogs. My kids about died from the excitement.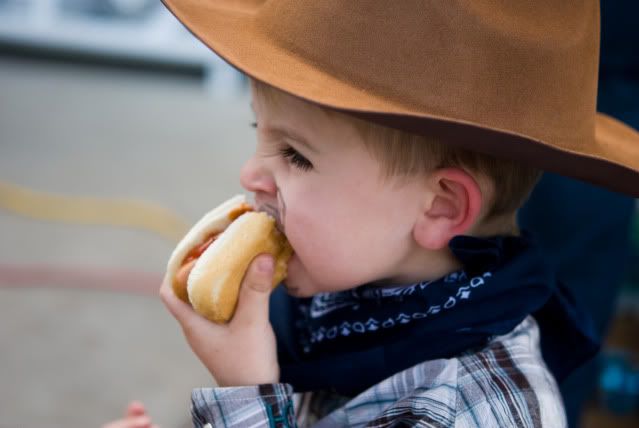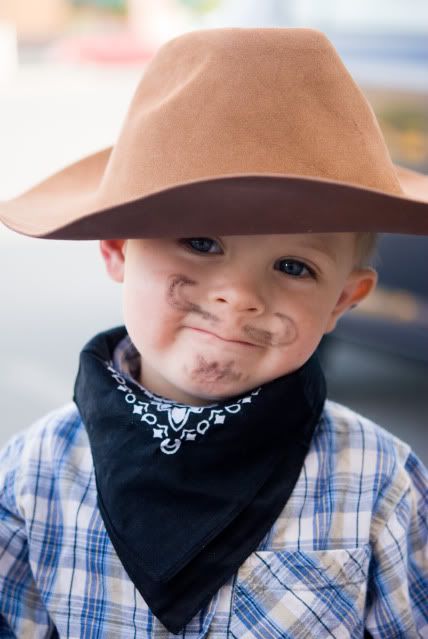 My handsome little cowboy:)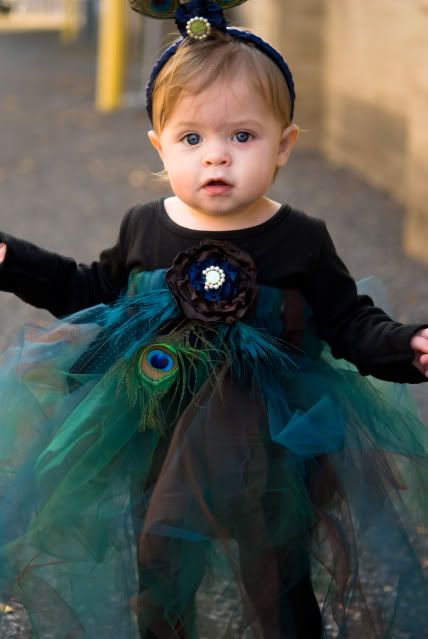 My pretty peacock.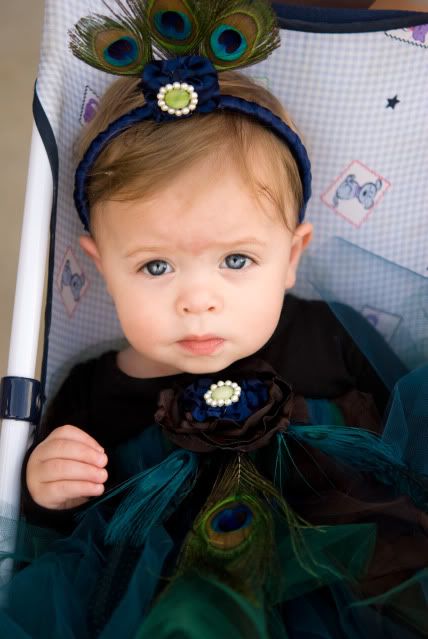 Natalie spent most of the afternoon like this...in her stroller, totally bored.
Right before we went home, I released her from her confines, and she loved strutting down the sidewalk like the proud little peacock she was.
Details on the costumes:
I spent $3 each on the sheriff costumes. (I super ♥ the dollar store this time of year!) I bought each of them a cowboy toy pack that came with a sheriff's star, gun and holster, and a cowboy hat - all from the dollar store. Then I went to Walmart where I picked up a bandanna for each of them at $1 apiece. They already had shirts, jeans, and belts. They wore their church shoes, and I drew on some awesome facial hair with my black eyeliner pencil.
For the peacock, I was going for more of a masquerade style costume. Think essence of peacock, not literal peacock. She's my only girl, and it's her first Halloween, so I wanted something pretty. :)
I used 1 1/2 yards each of dark blue and green tulle, along with 1 yard of brown tulle tied to some elastic for her tutu dress.
I bought two packs of short length peacock feathers that I cut down for her headband and for the brooch on the front of her dress. I also bought a pack of teal colored feathers for the front of her dress.
I made her headband by wrapping a basic plastic headband (that we already had) in 3/4" dark blue ribbon. Then I took a length of that same ribbon and using my sewing machine, ran a basting stitch down the center. I gathered, rolled, and hot glued until I had the rosette the size I wanted. I added some beads that I already had to the center, hot glued on the feathers, and hot glued the whole thing to the top of the headband.
I did the same thing for the brooch on her dress, but I layered a brown fabric flower (that I already had) under it. I then hot glued a pin to the back and pinned it to the front of her dress. Put together with some black tights, her church shoes, and a black leotard, she was good to go!!
Have a happy, safe Halloween!!